Smir's UNC teammate Alex Rose scores game-winner as Ocean City wins second straight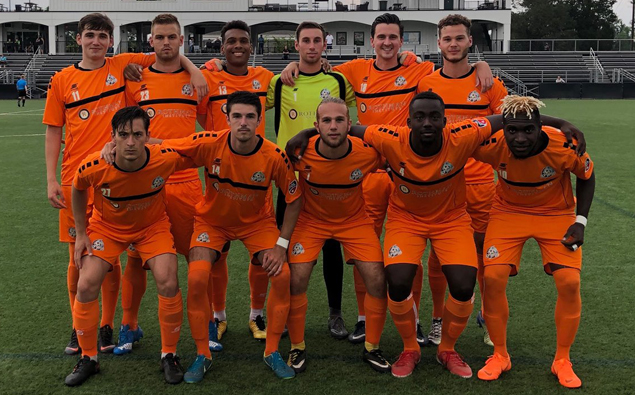 It took longer than they would have liked, but the Ocean City Nor'easters picked up their second straight win on Saturday night. The Nor'easters picked up a 1-0 road win over Evergreen FC in a game that featured a one-hour lightning delay in Leesburg, Va.

It was a pair of stars from the North Carolina natives from the University of North Carolina that led the way for the Nor'easters as Alex Rose (North Carolina / Cary, NC) scored what would prove to be the game-winner in the first half while his Tar Heel teammate Alec Smir (North Carolina / Greensboro, NC) picked up the clean sheet in goal.

"Tonight's game was a very hard-fought battle, especially with the lightning delay," said Nor'easters assistant coach Christos Economopoulos, who was filling in for head coach John Thompson who was unable to make the trip. "The boys did very well to play in these crazy weather conditions and leave with a win."

With that win, the Nor'easters remain undefeated against Evergreen FC, improving their all-time record against the club to 12-0-1.

Ocean City improves to 3-2-0 in league play and remain in fourth place in the Mid-Atlantic Division. After Saturday's PDL results, including Reading United AC and the Long Island Rough Riders finishing in a 1-1 draw, the Nor'easters are still within striking distance of the top of the division with nine points. Long Island and Reading are both tied for first place and Ocean City has played two fewer games than the Rough Riders and one fewer game than United.

It was a physical battle between the two clubs and they found themselves scoreless before lightning brought the game to crashing halt in the 29th minute.
Play is delayed in the 29th minute ... still scoreless https://t.co/5TWrUEuM0V pic.twitter.com/nPVoMbllNt

— OC Nor'easters (@OCNoreasters) June 10, 2018
About an hour later, the game resumed and it didn't take long for the Nor'easters to break the deadlock. Simone Raiola (Grand View Univ. / Triuggo, Italy) made a run down the right wing and sent in a cross in stride into the penalty box. There, it found the head of Alex Rose who nodded it across the face of goal to the far post and past the goalkeeper to break the tie. It was the second goal of the season for Rose, which currently leads the team.

Rose was making his second straight start and for the second straight game, he rewarded the team with a goal. Alex, who will be a sophomore at UNC in the fall, is currently ranked No. 39 on the PDL's Top Prospects list and the last two games, he is proving why he belongs on the list of the top players in the league.

The rest of the match was a tightly-contested defensive battle. Keeping with the North Carolina Tar Heel theme, that defensive effort was led by captain Sam Jones (North Carolina / Cardiff, Wales). The center back was acknowledged as the team's Unsung Hero of the game as Ocean City picked up its third clean sheet of the season in all competitions.

For Smir, it was an impressive end to an incredible shortened season for the North Carolina native. Smir is leaving the Nor'easters to travel to United Kingdom to take part in a study abroad program and Saturday is expected to be his final game of the 2018 PDL season.

Smir, who is currently ranked No. 17 on the Premier Development League's Top Prospects list, has played in seven games in all competitions for Ocean City in 2018. He started all three of the club's Lamar Hunt US Open Cup games. During that run, he earned a clean sheet on the road against AFC Ann Arbor and was nominated for TheCup.us Player of the Round and was in goal to help the Nor'easters upset the Charlotte Independence, a professional team in the United Soccer League. He was excellent in league play too. Aside from a 4-0 loss to the New York Red Bulls U-23s where Ocean City played with 10 men for the majority of the game, Smir allowed just two goals in the other three games played, including a shutout on Saturday against Evergreen FC.

"Alec has been a class act for us this season," said head coach John Thompson. "He is off to the U.K. for a study abroad experience and we wish him well with that. As a goalkeeper, he has a very bright future in the game. He is very mature and calm on the field for a 19-year-old and defenders know he has a steady pair of hands. Nothing much rebounds off of him, and he is a quality shot-stopper.

"Alec will always have a summer home in Ocean City should he want to play next season," Thompson added. "We wish him safe travels and we will be watching all his college games this fall at UNC."

While the Nor'easters will miss Smir, they have, top-to-bottom, one of the most talented groups of goalkeepers the club has ever had. The defense is not likely to miss a beat with last year's defensive player of the year Todd Morton (Delaware / West Chester, PA), along with Jimmy Slayton (Hartford / Wethersfield, CT) and James Brett (Rutgers-Camden / Palmyra, NJ).

Next up for the Nor'easters, they will have a tough stretch toward the end of the next week as they will play two road games in a three-day span. On Thurday, June 14, they will take on Lehigh Valley United, and then remain in Eastern Pennsylvania to play long-time rival Reading United on Saturday night.

The next home game for Ocean City is on Wednesday, June 20 when they host Reading United at the Beach House. All tickets are $10 and there are special birthday party and group ticket packages, as well as free tickets offered to soccer coaches. Get all the details here.

WATCH THE FULL GAME BELOW