Claudio Repetto scores his 8th goal of the year as Ocean City hands Reading their first loss of the season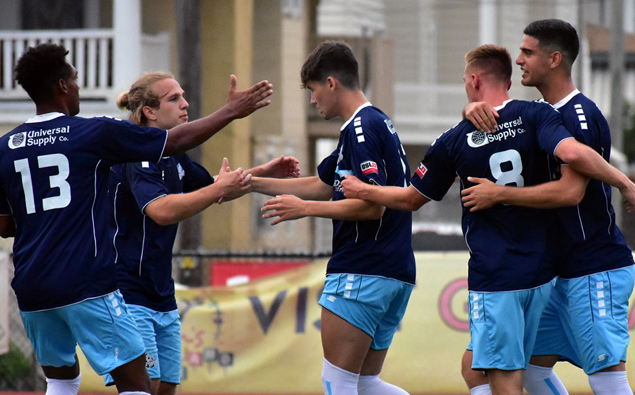 On July 11, 1997 the South Jersey Barons and the Reading Rage played a game in the USL's D-3 Pro League. Almost 22 years later, those same two clubs met once again with different names and in a different league as the Ocean City Nor'easters met Reading United AC for the 50th time on Sunday night at Carey Stadium in Ocean City, N.J.
The USL League Two rivals went at it once more with Reading United coming into the game trying to finish with a rare undefeated season, but the Nor'easters handed them their first loss with a 4-1 win. With the win, the Nor'easters move into second place in the Mid-Atlantic Division and extend the club's unbeaten streak to six games (4-0-2). The Storm also remain undefeated at the Beach House and extend their home unbeaten streak to eight games dating back to the 2018 season.
Deri Corfe (Wright State / Chester, England) led the way by becoming the 11th different player in Ocean City history to score a hat trick. At the end of the night, Corfe finished with 12 goals on the season, which ties him for the league lead with Kyle Edwards of Brazos Valley Cavalry FC.
The Nor'easters would get off to yet another fast start as Claudio Repetto (Coastal Carolina / Genova, Italy) scored his eighth goal of the season in the second minute of the match. Williams N'Dah (Univ. of Charleston / Rome, Italy) sent a beautiful long ball from the ring wing, inside his own half to Repetto who ran onto it and slotted it past the keeper to give the Storm an early lead. Repetto's eight goals has him tied for third among all USL League Two players.
The fun did not stop there, as Ocean City was awarded two penalty shots within an 11-minute span. In the 15th minute, Matteo Bennati (Ohio State / Genova, Italy) drew a foul in the penalty area and the referee awarded a PK. Corfe stepped up to the spot and converted to put the Nor'easters up 2-0.

Bennati "assisted" on another goal as the newest Ohio State Buckeye drew another foul in the penalty area in the 26th minute. Just like before, Corfe beat the keeper on the penalty kick as the Nor'easters had a commanding 3-0 lead before the half-hour mark. While he doesn't get credit on the scoresheet, this was the fourth penalty kick goal that Bennati helped created in the last two games. In the team's 2-2 draw on the road against Evergreen FC, Bennati suffered a pair of fouls in the box that led to a pair of Repetto PK goals.

Corfe would score his third goals in the 71st minute thanks to an assist that did show on up the scoresheet by Bennati. Bennati, who was making his third straight start for the club, sent a sweet pass to Corfe on the left wing. Corfe then cut inside to his right foot, beat the defender and curled a shot into the back of the net to become the 11th different Nor'easters player to score a hat trick. The last player to score three goals in a game was Chevy Walsh (Jefferson College / Spanish Town, Jamaica), who scored two hat tricks during the 2016 season where he was named USL League Two MVP.

Corfe continues to stuff the stat sheet this season, with those 12 goals, he brings his career total to 18, which moves him into a tie for third place on the club's all-time list with Jeremy Ortiz (La Salle / Mt. Laurel, ,NJ) who played for the club from 2006-08.

Another Nor'easter that shined bright was goalkeeper Jan Hoffelner (St. John's / Frankfurt, Germany), who made his 13th straight start. Hoffelner would make five saves and nearly had a clean sheet but Bakary Bagayoko of Reading United scored on a counter attack in the 90th minute.

The Nor'easters will take a break from league play when they host the Philadelphia Lone Star FC of the National Premier Soccer League in an exhibition game on Wednesday night at the Beach House. Then, Ocean City will play their final league game on Sunday when they host the Long Island Rough Riders. Kickoff for both games is at 7 p.m.

FULL MATCH VIDEO