Slayton, Valeriano combine to earn a shutout in 1-0 exhibition win as Ocean City prepares for crucial league game vs. Reading United on Saturday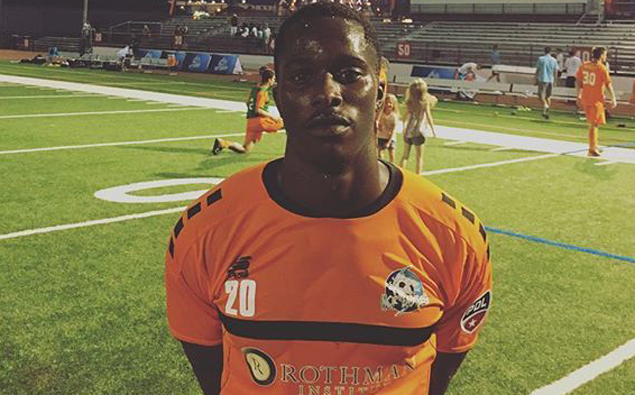 The Ocean City Nor'easters earned their fourth straight win Monday night as they defeated West Chester United 1-0 in an exhibition game. After seven first-half saves by goalkeeper Jimmy Slayton, Abdul Mansaray scored the only goal of the game in the 85th minute to clinch a win for the Nor'easters.

Slayton added two more saves in the second half, giving him a game total of nine, before substituting out in exchange for Gus Valeriano in the 71st minute. Valeriano completed the shutout for the Nor'easters, meaning they have not given up a goal in their last five halves in all competitions.
This friendly improves Ocean City's overall season record to 10-6-0 while they remain at 7-4-0 in league play. The Nor'easters return to Premier Development League (PDL) action on Saturday as they prepare for a must-win matchup with long-time rival Reading United AC. This will be the 48th all-time meeting between the two clubs. This begins a string of three PDL matchups which Ocean City must win to have a chance at a playoff spot.

Saturday's game will kick off at 7 p.m. at the Beach House in Ocean City.

Slayton began to see plenty of activity around his net early in the game as he made a diving stop in the 5th minute, setting the tone for a night of impressive goalkeeping. In the 21st minute, West Chester's Blaise Milanek sent a ball toward Slayton, who jumped and stretched high to punch the ball over the net. After very few offensive opportunities, the Nor'easters received a much-needed boost from Slayton in the first half.

Early in the second half, the Nor'easters head hunted each other looking for headers toward the net. First, Mansaray struck one off the crossbar, quickly followed by a header from Marco Torino which dribbled wide by inches.

Mansaray almost opened the scoring in the 55th minute when West Chester goalkeeper AJ Marucci missed a dive for the ball in his own box, leaving Mansaray with a wide open chance. However, a defender closed on him quickly and blocked his shot.

Slayton continued his stellar play in the second half, making two highlight reel saves back-to-back off a West Chester free kick.

Finally, in the 85th minute, Mansaray broke open the scoring thanks to a quick clearance by defender Evan Godfrey. Godfrey fired a through ball up to Mansaray, who dribbled the ball past West Chester's back line and tapped the ball to earn his fourth goal of the season (in all competitions).

The Nor'easters have four games remaining on the season, all at home, as they have a solid break to prepare for an undefeated Reading club on Saturday. This is a must-win for the Nor'easters, as they must win out and rely on results from other games to keep their playoff hopes alive.

FULL MATCH VIDEO