Noumansana scores twice as Ocean City finishes the campaign undefeated at the Beach House in all competitions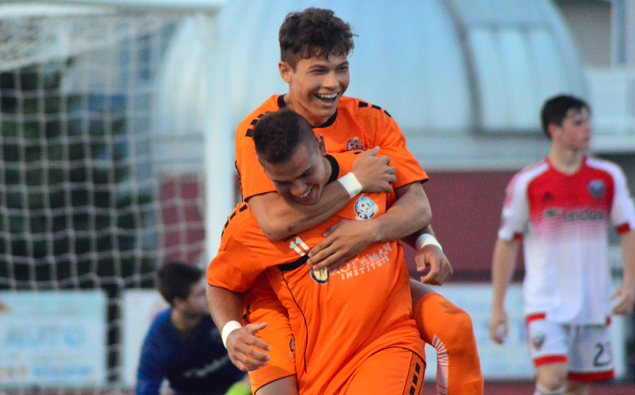 The Ocean City Nor'easters ended the 2017 season with an entertaining 3-3 draw in a friendly against the D.C. United Under-23s. Ismael Noumansana (Lenoir-Rhyne / Bamako, Mali) scored a pair of goals and Francisco Neto (Rio De Janeiro, Brazil/West Virginia Tech) added another but United answered with two late goals, including the last one in stoppage time, to level the score.
The Ocean City Nor'easters celebrate a goal against the D.C. United Under-23s in an exhibition game on July 16, 2017. Photo: Dave O'Sullivan/Glory Days Magazine
"It was a good way to finish the season, we managed to get all the lads who've been around the squad all season some playing time," said head coach John Thompson. "Boys had a good time being down here for three months and we were still unbeaten at home this year."
D.C. opened the scoring in 15th minute when Elijah Agu's shot got pass Ocean City keeper Jimmy Slayton (Wethersfield, CT/Hartford) to give them an early lead.

Ocean City immediately fought for the equalizer and created a number of chances, with the best coming from John Schroeder (Houston, TX/Delaware). The Delaware product sent a great pass to Noumansana but United goalkeeper Mark Elmore came off his line to intercept it.

Ocean City eventually got the tying goal in the 30th minute when Noumansana scored with a chip shot over Elmore to make it 1-1 where it would remain until halftime.

The second half started out well for Ocean City when Neto rocketed a shot past Elmore to give Ocean City a 2-1 lead. Then, in the 61st minute, Noumansana collected a low cross and shot into an empty net to make it 3-1.

However D.C. sparked a late rally with two goals in the final six minutes. Elijah Agu scored in the 84th minute and then Everson Amaya scored the tying goal in stoppage time.

The game would finish tied at 3-3 giving the home fans in Ocean City an entertaining end to the 2017 season. The Nor'easters finished the regular season 9-4-1, which earned them a third place finish in the Mid-Atlantic Division. Including all U.S. Open Cup and exhibition games, the team finished 11-4-3, with an undefeated record at home of 8-0-3.

The entire Ocean City Nor'easters organization would like to thank all of the fans for making 2017 a memorable season.
FULL MATCH REPLAY