Deri Corfe scores his 9th goal of the season, assists on Claudio Repetto's game-winner to keep playoff hopes alive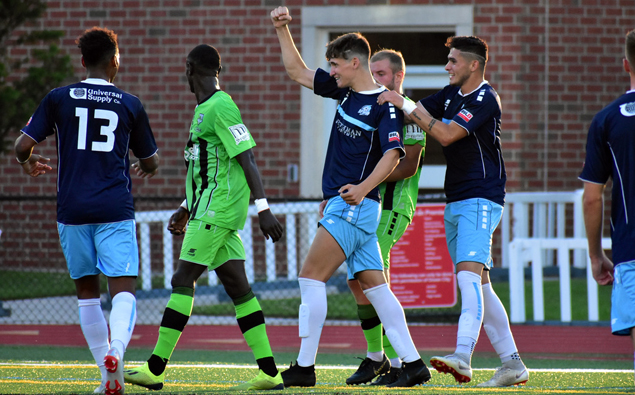 The Ocean City Nor'easters came into the weekend desperately needing to win both games at home to stay in the tight playoff race, and they did exactly that.

After a 4-3 win over Lehigh Valley United on Friday night, the Nor'easters completed the weekend sweep with a 2-1 victory on Sunday night against the Cedar Stars Rush. The weekend sweep puts Ocean City within range of the final playoff spot in the Eastern Conference. The division winner and the top second place team in the Eastern Conference qualify for the postseason. After the weekend, the Nor'easters are five points behind GPS Portland Phoenix who compete in the Northeast Division.

"It was a great effort from the boys, said Nor'easters head coach Kevin Nuss. "It's always difficult to play two games in three days and they really stepped up tonight against the Cedar Stars, who are a quality side and gave us trouble for portions of the game."

The first half was exactly like Friday night against Lehigh Valley with Ocean City creating numerous chances. Both goalkeepers stood tall as shots were ripping from everywhere.

Ocean City would break through in the 32nd minute on a corner kick as Deri Corfe (Wright State / Chester, England) would score on a mad scramble in the box to gives the Storm an early lead. The goal was Corfe's team-leading ninth of the season, which ranks second in USL League Two. With that goal, Corfe moves into fifth place on the Nor'easters' all-time scoring list, passing Tony Donatelli and 2016 league MVP Chevaughn Walsh. He also passes Ryan Heins for 6th place with 36 career points.


Cedar Stars would equalize from the penalty shot in the 42nd minute as Jan Hoffelner (St. John's / Frankfurt, Germany) would receive a yellow card in the penalty area for clipping a Cedar Stars player on the ankle while going for the ball.

After the halftime break, the Nor'easters would regain the lead in the 47th minute as Claudio Repetto (Coastal Carolina / Genova, Italy) would find the back of the net once more. Corfe sent in a cross to the back post from about 40 yards out and Repetto was there to meet it with his head to score his fifth goal of the season. For Repetto and Corfe, it was their third consecutive game where each player scored at least one goal.

[Repetto and Corfe] have been huge for us," said Nuss. "Our performances have been consistent over the season but we have struggled to find the back of the net at times and results have been hit or miss at times. That can start to affect a team's confidence but with Deri and Claudio finding the back of the net consistently, you can see everyone raise their level."

Corfe's assist on the goal was his third of the season, which ties him with Repetto and Brandon Smalley (Florida Tech / Bridlington, England) for the team lead.

The moment of the match came in the 54th minute, as Hoffelner would be involved in an incredible sequence around the net, making two saves and even coming off of his line to defend, leaving the net wide open. Hoffelner and the Ocean City defense were able to keep the Cedar Stars off the scoresheet for the remainder of the game with the German netminder making a season-high 10 saves. His counterpart for the Cedar Stars, Sean Murray made eight stops.

With the win, the Nor'easters improve to 5-3-3 and have won three straight games and are unbeaten (3-0-1) in their last four. The Storm also extend their home unbeaten streak to seven games.

Ocean City will continue their playoff push on Wednesday with a trip to Leesburg, Virginia to play Evergreen FC in the final road game of the season.

The Nor'easters will return home on Sunday, July 7, to take on unbeaten division leaders Reading United AC in what will be the 50th all-time meeting between the long-time rivals. The team will then finish the regular season with home games with an exhibition game against the Philadelphia Lone Star FC (NPSL) on July 10, and the regular season finale against the Long Island Rough Riders on July 14. All home games will kick off at 7 p.m.

FULL MATCH VIDEO