10 midfielders hail from six different countries, bringing wealth of experience from a variety of successful programs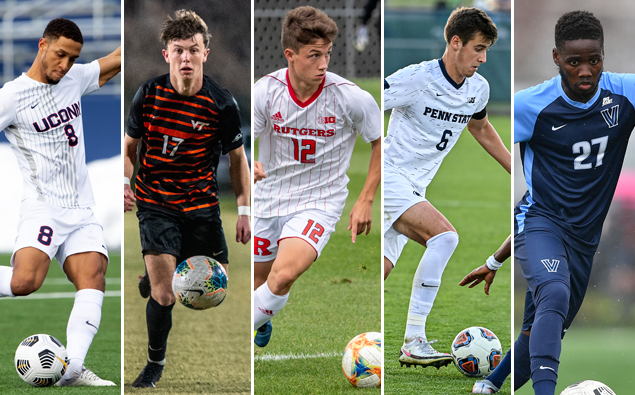 Much like the defensive unit for the 2021 USL League Two season, the Ocean City Nor'easters midfielders will bring an international flavor to the Beach House this summer. The 12 midfielders on the roster hail from six different countries and bring with them a wealth of experience both at major programs and smaller ones. However, no matter the size of the school, it is a talented group with strong resumes including an All-American, and multiple All-Conference selections, and some who have qualified for the NCAA Division I tournament.

The 2021 USL League Two season kicks off on May 12 with a road game against Real Central Jersey. The Nor'easters' home opener at Carey Stadium ("The Beach House") in Ocean City, N.J., America's Greatest Family Resort will take place on Sunday, May 23 against West Chester United. Check out the schedule here to start planning your trip to the Beach House this summer!

MORE: Nor'easters' tradition of goalkeeping excellence continues with talented 2021 class
MORE: Nor'easters assemble global talent for 2021 defensive unit
MORE: Nor'easters assemble elite group of forwards for 2021 season

Nick Blacklock (Virginia Tech / Hellertown, PA)

A native of the Allentown, Pa. area, Nick Blacklock made an easy transition from the Philadelphia Union Academy and the YSC Academy to major Division I college soccer. In 2018, he won a midfield starting job at Virginia Tech as a freshman and started 15 of the 19 games he played in and dished out five assists. He continued he regular spot in the starting lineup this season as he started 10 of the 13 games he played in for the Hokies, scoring two goals and helping the school reach the Sweet Sixteen of the NCAA tournament for the fourth time in the last five years. To get there, they needed an overtime golden goal in the final seconds by Ocean City alum Jacob Labovitz.

Tyler Hutchinson (Clemson / Cliffside Park, NJ)

Hutchinson comes to Ocean City from Clemson University, the ACC power that has enjoyed one of the best seasons in program history. The Tigers finished with a 13-3-2 record and was the No. 1 seed in the NCAA tournament for the first time since 1998. Hutchinson did not see any action in his first year with the program but expects to be a big part of the team going forward. Before arriving at Clemson, the Cliffside Park, N.J. native spent time at the Barca Residency Academy (Casa Grande, AZ) and prior to that played club soccer for Washington United and Next Gen USA.

Olle Kaissidis (UNC Greensboro / Stockholm, Sweden)

Kaissidis is part of a Top 25 recruiting class for head coach Chris Rich at UNC Greensboro, coming to North Carolina from Sweden. In 2019, he was the captain of his youth team that reached the highest youth division in Sweden. Kaissidis arrived on campus in the middle of last season, so he will be making his collegiate debut this fall for the Spartans.

Paolo Marciano (Adelphi / Capaccio, Italy)

From the first game as a freshman at Adelphi, Paolo Marciano has been one of the school's biggest offensive weapons. As a freshman he tied for the team lead with 12 goals and was named the conference Rookie of the Year. As a sophomore, he took another step forward, leading the conference in scoring and being named the Northeast 10 Player of the Year and a First Team All-American. The 2020 season was canceled, so Adelphi fans will have to wait until next season to see what Marciano will do for an encore in his junior season.

Marcel Meinzer (Kentucky / Herxheim, Germany)

A starter from his first year at Kentucky, the Herzheim, Germany native wasted no time establishing himself in the Wildcats midfield. Meinzer has been a regular starter in his first three seasons at Kentucky. In his freshman year in 2018, he helped the Wildcats win the Conference-USA title and advance to the Elite Eight of the NCAA tournament. As a sophomore, he started every game and was an all-conference and all-region selection, which dishing out five assists (2nd most on the team) as UK made another trip to the NCAA tournament. This year, he took another step forward in his development, as he was named to the all-conference team again and was also named the C-USA Midfielder of the Year, along with Vitor Dias of Marshall. Kentucky again qualified for the NCAA tournament and won their opening round match against New Hampshire to advance to Round 3 where they will face No. 4 Wake Forest.

Felix Metzler (Connecticut / Frankfurt, Germany)

Felix Metzler was recently announced as an All-Big East selection in his third year as a member of the UConn Huskies midfield. Since arriving from Frankfurt, Germany in 2018, he was an instant starter for UConn, starting every match and being named the conference's Rookie of the Year. Injuries cut his sophomore season short, but the 13 games he did play in were impressive enough to earn him all-conference honors. This past season was also cut short due to COVID-19, but he started every game.

Andrew Privett (Penn State / Fallston, MD)

After winning a pair of national championships with Baltimore Celtic at the youth level and a successful high school career in the state of Maryland Andrew Privett was quite a catch for the Penn State Nittany Lions. Privett played in all 19 games (5 starts) as a freshman, scoring two goals and adding three assists. This season, PSU lost to Indiana in the Big Ten championship game in a penalty kick shootout, but they were awarded an at-large bid into the NCAA tournament. After defeating UMass 4-1 in the opening round the Nittany Lions, who are currently ranked 12th in the country, will take on No. 5 Georgetown in the Sweet 16 on Thursday.

Theo Quartey (Villanova / Accra, Ghana)

Theo Quartey made the journey from Ghana to the Philadelphia area and made an immediate impact in his freshman year at Villanova. Quartey scored three goals and had two assists and was named to the Big East All-Freshman Team. His role grew throughout his four seasons with the Wildcats. In a COVID-shortened senior season, he played in eight games, scoring two goals, both of them coming in a 4-1 Senior Day win over UConn.

Tal Segev (NC State / Rishon LeZion, Israel)

Tal Segev built some confidence by leading FC Or-Yehuda in assists in his home country of Israel before traveling to the United States to play for NC State. Segev stepped in as an immediate starter for the Wolfpack, playing in one of the toughest conferences in the country. He played in 13 of the team's 15 games and scored an incredible first collegiate goal, bending a corner kick that ended up in the back of the net.

Jackson Temple (Rutgers / Millville, PA)

After playing for the Philadelphia Union Academy and spending time with the U.S. Under-15 National Team, Jackson Temple wasted no time in establishing himself in the Rutgers midfield in 2019 as a freshman. He played in every game for Scarlet Knights, scoring five goals and earning a unanimous selection for the Big Ten All-Freshman Team. In the abbreviated 2021 season, Temple played in seven of the eight games, finishing with two goals and two assists. He assisted on both goals in a 2-0 road win over Michigan State and scored the game-winner in a 1-0 win over Wisconsin.

Tyler Watson (Cumberland / Simi Valley, CA)

As the lone Californian on the roster, Tyler arrives in Ocean City with an impressive resume from Cumberland University in Lebanon, Tenn. Watson has been an All-Mid-South Conference (MSC) selection in each of his first three years with the Phoenix. This is how much respect the voters from the Mid-South Conference have for his talent. He was named an All-MSC selection and the conference Freshman of the Year, with nine goals and five assists in 20 games. He led the team in scoring as a sophomore (9 goals, 6 assists) and earned another all-conference selection. This past season, injuries cut an already abbreviated campaign short as Watson played in just three games and scored two goals and was still an All-MSC Second Team selection.