Two MAC Hermann Trophy watch list players, numerous all-conference selections and five players who participated in the NCAA tournament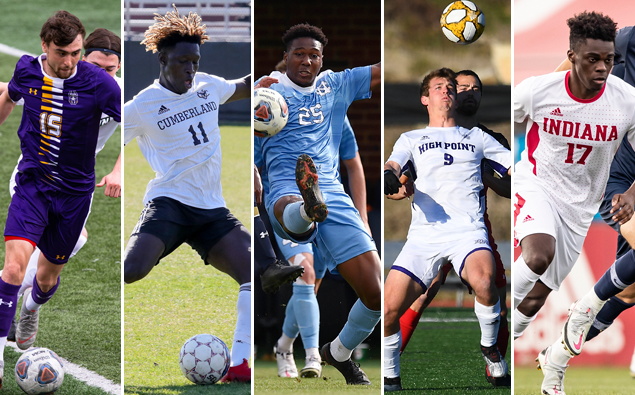 The Ocean City Nor'easters have assembled an elite team for forwards for the 2021 USL League Two season that not only bring a boatload of goals to the Beach House, but numerous accolades from a variety of successful programs. The roster includes two players that were on the MAC Hermann Trophy watch list as the nation's most outstanding player (one remains a Semifinalist this year), numerous all-conference selections and five players that played on teams that competed in this year's NCAA tournament.

The 2021 USL League Two season kicks off on May 12 with a road game against Real Central Jersey. The Nor'easters' home opener at Carey Stadium ("The Beach House") in Ocean City, N.J., America's Greatest Family Resort will take place on Sunday, May 23 against West Chester United. Check out the schedule here to start planning your trip to the Beach House this summer!

MORE: Nor'easters' tradition of goalkeeping excellence continues with talented 2021 class
MORE: Nor'easters assemble global talent for 2021 defensive unit
MORE: Nor'easters' 2021 midfielders bring international flavor to the Beach House
Bakary Bagayoko (Cumberland / Bronx, NY)

After the journey from The Bronx to Tennessee, Bakary Bagayoko has been scoring goals since he stepped on the field for Cumberland University. In his freshman year, he was tied for second on the team with seven goals and four assists in 12 games (10 starts). He took another big step forward this past season for his sophomore season as he led the conference in scoring with 15 goals and one assist in just 12 games. In fact, he nearly outscored all of the opponents as the Phoenix defense only allowed 20 goals all season long. Bagayoko finished fifth in the NAIA in goals per game (1.25), 10th in points per game (2.58) and 13th in goals (15), earning him First Team All-Mid-South Conference honors. The last time he played in USL League Two was in the summer of 2019 when he suited up for Nor'easters' rival Reading United and scored three goals in three games as they reached the league championship game under current Nor'easters head coach Alan McCann.

Simon Becher (St. Louis Univ. / Brooklyn, CT)

Simon Becher comes back to the East Coast from St. Louis University where he was the Billikens' leading scorer and a first-team All-Atlantic-10 selection this past season. In his sophomore year, he scored a pair of goals in an injury-shortened season. Prior to transferring to SLU, Becher played his freshman season at Holy Cross where he was an all-conference selection and he led the Crusaders in goals (7). Before that, he spent time in the U.S. Development Academy (Oakwood SC) and was called up to the U.S. Under-20 national team's training camp on three separate occasions.

Adrian Camacho Castro (Keiser / Bogota, Columbia)

After arriving from Colombia, Adrian Camacho Castro burst onto the scene at Keiser University (West Palm Beach, Fla.). In 2019, he led the Seahawks in scoring with 14 goals in 19 games and was named the Sun Conference Freshman of the Year and a third team NAIA All-American. He only increased that total this past season with 15 goals and 8 assists in 17 games. He was named the Sun Conference Player of the Year and is likely to be named to his second straight All-American team. In the NAIA tournament, Keiser fell short in a penalty kick shootout in the Quarterfinals. It was a historic season for the Seahawks as they broke the school record for wins in a season (16).

Akeim Clarke (North Carolina / Windsor, CT)

Akeim Clarke is part of the North Carolina program that is still alive in the NCAA tournament. He is a freshman with the Tar Heels and has played a big role in the school's success in the abbreviated season, playing in 14 of the team's 16 games, scoring one goal and dishing out two assists. Prior to arriving at the ACC power (where he is teammates with two former Ocean CIty players, Alec Smir and Alex Rose), he was an All-American at Loomis Chaffee School in Windsor, Conn. where he scored 36 goals and had 44 assists in three years. He played club soccer with Black Rock FC, who launched a USL League Two team in 2018. Clarke's father, Gary, who was originally from Jamaica played professional soccer for the Western Mass Pioneers and was part of the 1999 D3 Pro League championship team that defeated the Ocean City Nor'easters (then known as the South Jersey Barons) in the league final.

Austin DaSilva (Albany / Brookfield, CT)

Austin DaSilva came into this past season at the University at Albany with high expectations as he was one of the 35 players in the country on the MAC Hermann Trophy preseason watch list. Unfortunately, like many teams around the country, the season was cut short due to the COVID-19 pandemic. The Great Danes only played nine games and DaSilva played in in all of them, scoring two goals and dishing out a team-high three assists. In the previous season, he scored a team-high 12 goals, including six game-winners. He was named the America East Striker of the Year and an all-conference and all-region selection. Prior to UAlbany, DaSilva played his freshman season at UConn where he had 2 goals and 3 assists.

Herbert Endeley (Indiana / Blaine, MN)

Herbert Endeley was a star high school recruit that has lived up to the hype so far at Big Ten titan Indiana. The high school All-American and former Mr. Soccer for the state of Minnesota was an All-Big Ten Freshman Team in 2019. This past season saw him build on that success as he scored 3 goals and had 2 assists in 13 games and was an all-conference selection as he helped the Hoosiers win both the regular season and the tournament championship for the third year in a row and the 11th time in school history. At the time of this being written, Indiana had just defeated Seton Hall to advance to the NCAA College Cup National Semifinals.

Kyle Galloway (Rutgers / Manahawkin, NJ)

Kyle Galloway is a Jersey kid that stayed home to play at Rutgers. After an accomplished high school career at the Pennington School where he was a two-time member of the Times of Trenton Team of the Year. Galloway stayed in-state to play for the Scarlet Knights. The Manahawkin native just completed his senior season in style, scoring the lone goal in a 1-0 Senior Day win over Northwestern.

MD Myers (High Point / Delran, NJ)

After a solid freshman season at High Point that saw him come off the bench in 18 games, there probably weren't many people outside of the Panthers locker room who expected a breakout season like MD Myers had this past season. In his sophomore season, he started all 14 games and scored 14 goals, tied for second-most in the nation, including five game-winning goals (also second-best in the nation). Myers also added four assists, which put him second in the country in scoring with 33 points. As a result, he became the first High Point player in history be a Semifinalist for the MAC Hermann Trophy, which is awarded to the most outstanding college player in the country. He also won a school award as High Point University's male athlete of the year. His individual success led to team success as well, as High Point won the Big South regular season and tournament championships and earned a trip to the NCAA tournament. The finalists for the Hermann Trophy will be announced on May 12.

Gilbert Waso (Elizabethtown / Elizabethtown, PA)

Gilbert Waso comes to Ocean City as one of the few college graduates as he finished up his college career at Elizabethtown College in 2018, where he was coached by Skip Roderick, who is an assistant coach with the Nor'easters in 2021. Waso burst onto the scene as a freshman in 2015 where he scored 9 goals and had a conference-leading 8 assists and was the Landmark Conference Rookie of the Year, Offensive Player of the Year, and naturally, was first team all-conference, all-region, and a first team all-american. His sophomore year, he increased his goal total to a conference-leading 15 and repeated as the conference's Offensive Player of the Year and a first team All-American. His junior year, still managed to score 11 goals (six of them game-winners) in an injury-shortened season and was still named first-team all-conference. In his senior year, he won the Landmark Conference Offensive Player of the Year for the third time, was named to the all-region and all-conference team for the fourth year in a row.