The Ocean City Nor'easters and the Ocean City Recreation Department are excited to continue a partnership that has been established to enhance the player development opportunities for ages Pre-K to 8th Grade within the City of Ocean City. Using age appropriate curriculum, the Ocean City Nor'easters will provide support, structure, consistency and confidence to ensure players are receiving the highest level of coaching. Ocean City Nor'easters professional coaching staff will work alongside volunteer coaches providing education and expertise, ensuring existing and new programs are structured correctly and implemented with consistency.
Kids from Pre-K to 8th grade can experience a fun, age-appropriate introduction to the game of soccer from top-level coaches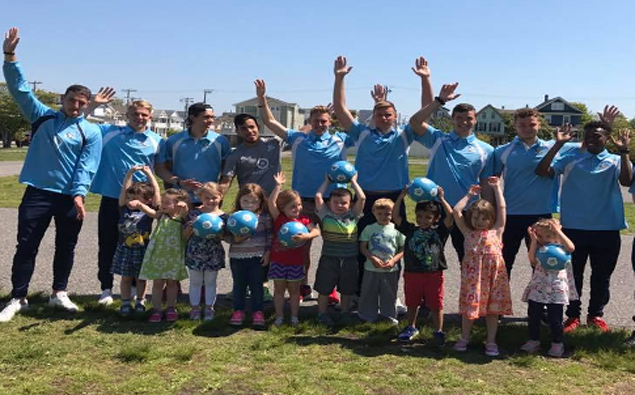 UPDATE: Due to flooding in Ocean City, the start date of the 2017 Fall Rec Program has been pushed back to Thursday, Sept. 28 and will run until Nov. 11.

The Ocean City Nor'easters' Fall Recreation Program is back!

This year's edition, which is open to all players from Pre-K up to 8th grade will kick off on Sept. 28 and run through Nov. 4.

The recreation program will provide kids with a fun, age-appropriate introduction to the game of soccer from top-level coaches from the Nor'easters organization.

The program will be hosted at Richard Grimes Field at 6th Street and Bay Avenue in Ocean City, New Jersey.

"The Nor'easters are glad to be running the Ocean City Recreation program again this fall," said Nor'easters general manager Giancarlo Granese Jr. "The rec session will be twice a week Thursday nights and Saturday mornings and will run for a total of seven weeks. We as a club are happy to continue this bond we have developed with the children of Ocean City."

Each session will be one hour and focus on developing basic soccer skills and technical ability through fun activities, drills, and scrimmages.

"Our aim as a club is to make sure that we provided a fun environment for all kids who attend while also making sure that each participant is developing their game regardless of age and experience," said Granese.
Thursday nights is a technical training session delivered by the Nor'easters coaching staff along with parent volunteers. All sessions delivered will be in line with our specialized curriculum aimed at developing soccer players of all ages and abilities:
1st & 2nd 5:30pm-6:30pm
3rd & 4th 6.30pm-7:30pm
5th - 8th 6:30pm-7:30pm
Saturday mornings will be games/scrimmages overseen by Nor'easters staff and parent volunteers:
pre K & K 9:00am-10:00am
1st & 2nd 10:00am-11:00am
3rd & 4th 11:00am-12:00pm
5th - 8th 11:00am-12:00pm
We are looking for parent volunteers for 1st & 2nd grade, 3rd & 4th grade and 5th thru 8th grade. If you are interested in volunteering for the Fall season please email rec@oceancityfc.com

The cost of the program is $60 per child. All registered players will receive a complimentary t-shirt. For more information, please contact rec@oceancitysoccer.com or call (609) 432-8271. Registration is open one more week, until Sept 27 so please sign up soon.

Here's how you can sign up for the 2017 Fall Rec program:
1. Click here to register online

2. Register in person at the field where the rec sessions will be held (Richard Grimes Field at 6th and Bay Ave. in Ocean City, NJ)

3. The Ocean City Nor'easters office located at: 200 Sixth Street in Ocean City

(Cash or Checks made payable to Ocean City Nor'easters)